The contestants:
Bristle Brushwerks badger brush (81.5g dry)
Mühle 35K256 synthetic brush (74.7g dry)
Procedure:
Let brush soak in warm water for 10 minutes.
Load with Boots soap for 30 seconds
Bowl lather until happy
Remove lather from brush manually
Give brush a good swirl in warm water
Rinse the knot under a vigorous cold tap for at least 30 seconds
Give the brush a gentle squeeze
Flick the brush violently 30 times until no water comes out
Wipe brush gently on soft dry towel four times.
Give handle a gentle rub with a microfibre cloth.
Put the brush knot up.
Wait until dry.
Initially quite frequently, later at larger intervals, I weighed both brushes using a scale with 0.1g resolution -
https://www.amazon.co.uk/Smart-Weigh-SWS600-Pocket-Digital/dp/B00GS8LWIW/
After the above procedure, the Mühle held 3.6g of Water, the Bristle Brushwerks 8.4g - more than twice the amount.
At each measurement, I recorded the current weight (CW), then based on the known dry weight (DW) and wet weight (WW) I calculated the amount of water left in the brush (AW) and how wet the brush is in percent (PW) as such:
AW=CW-DW
PW=100-(WW-CW)/(WW-DW)*100
Here are the results: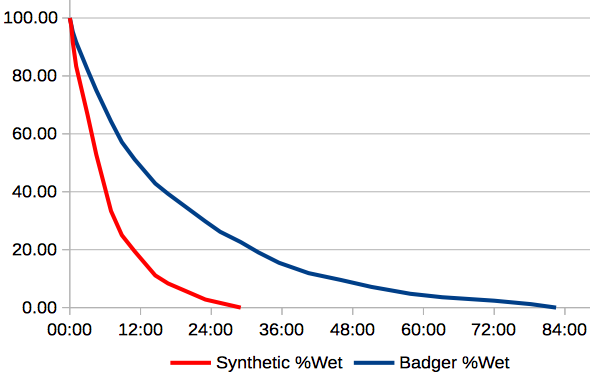 The Mühle synthetic was bone dry after 29 hours, just a bit longer than a day.
The badger took 3 and a half days (82 hours 30 minutes) to dry completely.
This was in the living room on not very humid warm summer days. The temperature was about 25℃, that's 32+25*1.8℉ if you need to know.